Welcome to The Vortex
Progress is happening steadily, and we are now past our open beta phase. Although, we're still open to suggestions for new doors and such, the bulk of the work is behind us. A few projects are on the horizon we'll be sharing soon, so stay tuned!

| | | | |
| --- | --- | --- | --- |
| caller | stays at | points | last |
| OldDragon2A | Beaverton, Oregon | 1275 | 04/07 |
| Kubrius | Schaghticoke/NY/usa | 1380 | 04/07 |
| EnasYorl | Seattle, WA | 1715 | 04/08 |
| squint | austin, texas | 30 | 04/08 |
| Bink | Hamilton, ON, Canada | 1795 | 04/08 |
| MauPastor | Portugal | 5 | 04/08 |
| OldDragon2A | Beaverton, Oregon | 1305 | 04/08 |
| Kubrius | Schaghticoke/NY/usa | 1405 | 04/08 |
| Bink | Hamilton, ON, Canada | 1800 | 04/08 |
| Bink | Hamilton, ON, Canada | 1805 | 04/08 |
Recent Callers
##
Caller
From
Status
1
Node available
2
Node available
3
Node available
4
Node available
5
Node available
6
Node available
7
Node available
8
Node available
9
Node available
10
Node available
Who's Online

| | |
| --- | --- |
| ** Congratulations, Bink!! ** First to 1000!! And winner of... | Haakon |
| Way to go Binky! | EnasYorl |
| Thank you to covid 19 for giving me the time to get to 1000pts. | Bink |
| Too much time on my hands... | Kubrius |
| So much time, not enough turns | EnasYorl |
| Do you guys think we should increase the turns in tradewars? | Arelas |
| I'm ok with a slow burn | EnasYorl |
| Time to burn? Join another game or we could run multiple. | OldDragon2A |
| hope everyone is staying safe out there | pariah |
| Only out I've done for a while now is to grab the mail. | OldDragon2A |

Oneliners

-----+ automessage +------------------------------
hey, so we know that usurper was screwed up... the user list was jacked up. we
ended up having to downgrade to a slightly older version, but it seems to be
good to go now, so let's get it going! how about that tradewars movement too.
----------------------------+ Haakon +------------
last thing... let us know if there are any doors that we don't have that you
would like to see! check the voting booth for a topic...

----------------------------+ Haakon +------------
so we're working on a new who's online system and a few other integrations
you may notice everyone's status is "Entering the Vortex"
that's because it's a work in progress. come back for the updates...
----------------------------+ Haakon +------------
Automessage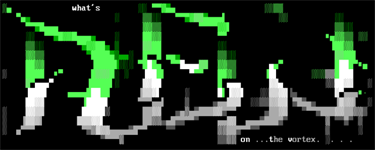 ---
[03/26/20] - We've hopefully finished a brand new "Who's Online" system now that better captures your online status, what you did, and what points you earned that call. This opens the door to a cool new project or two that will be unveiled soon! And "hopefully" there are no more bugs. Also, the first of three winners has won the race to 1,000 points for free swag!
[03/07/20] - After a short, well-deserved break, we're back at it and already have some new projects in the works -- more on that later. All the doors should be working now, including Usurper, which we've tweaked to what should be a challenging but really fun configuration. Let us know if you have any comments or special requests!
[02/21/20] - We've been putting some finishing touches on various parts of the board...a tweak here or there to some of the new customizations, a SWEET new storyboard sequence for the new user login process (Existing users: check it out! Hit "apply" from the logon matrix, just don't create a new account when it's over). Doors have been reset too. Let's roll!
[01/03/20] - Well, it's been a very long couple of weeks around here, with many late nights, numb fingers, tired eyes, and strong coffees. However, the result is well worth it. You will notice a TON of changes and many brand-new, unique mods -- most notably the point system, score-based user list, trending leaderboards, endorsements... check it out! More coming!!
[12/17/19] - Hello friends! We are currently conducting some testing on our management tools and as a result, I get to tweet to you! We've been working hard lately to add more customization to the bbs. We will have more announcements shortly. Stay tuned!
[10/5/19] - Hello, world! After much time and energy and deliberating, we have decided to return to the Windows platform to run the BBS. Primarily due to the linux version letting every telnet bot out there clog up all the nodes and difficulty with the doors... but we're back on our way. Some logs and stats may have been lost, but that's how it goes. Here we go!
[03/20/18] - Well, it's been a while since our last update, but we were working behind the scenes... and thanks to our efforts we have now completed porting the board to Linux! We are now on Mystic v1.12 A38 running CentOS 7. Some exciting redesigns of our custom Vortex mods are underway, including the new user voting mod and Plan 9 BBS List, to leverage Python. More updates soon!
[03/10/17] - Sorry for the hiatus. We have been busy working behind the scenes to make the BBS more interactive. We will soon be bringing our IRC server online, along with having capabilities such as in channel BBS updates and file uploading and downloading. Stay tuned for more info in the following days...
[06/10/16] - A ton of work has been completed, and now phase 2 is officially complete. All the menus' prompts have been tweaked, doors updated, new user voting mod deployed... scan process updated, automessage, autosig customized... practically everything is customized. Ultimate Usurper will be coming soon, as well as that password reset... and much more!! Get ready!!