Welcome to The Vortex
Progress is happening steadily, and we are now past our open beta phase. Although, we're still open to suggestions for new doors and such, the bulk of the work is behind us. A few projects are on the horizon we'll be sharing soon, so stay tuned!

| | | | |
| --- | --- | --- | --- |
| caller | stays at | points | last |
| Kubrius | Schaghticoke/NY/usa | 9435 | 11/26 |
| Emmixis | somewhere | 5 | 11/27 |
| Kubrius | Schaghticoke/NY/usa | 9460 | 11/27 |
| Kubrius | Schaghticoke/NY/usa | 9500 | 11/28 |
| Kubrius | Schaghticoke/NY/usa | 9540 | 11/29 |
| Emmixis | somewhere | 10 | 11/29 |
| Kubrius | Schaghticoke/NY/usa | 9575 | 11/30 |
| MaxMouse | hypernode.ddns.net | 110 | 11/30 |
| Kubrius | Schaghticoke/NY/usa | 9615 | 12/01 |
| anonymous | some gutter, probably | ???? | 12/02 |
Recent Callers
##
Caller
From
Status
1
Node available
2
Node available
3
Node available
4
Node available
5
Node available
6
Node available
7
Node available
8
Node available
9
Node available
10
Node available
Who's Online

| | |
| --- | --- |
| Kilgore Trout was here. | anonymous |
| |11clutch - bbs.clutchbbs.com | mike |
| Looks like the general consensus is let's do a door reset. | Haakon |
| We'll discuss this and get back to everyone soon. | Haakon |
| What am I looking at? | Vlk-451 |
| Colors and things? | OldDragon2A |
| Ah but I'm getting close to winning LoRD! | EnasYorl |
| The login UI was kinda ssy ngl | Happygeek10 |
| When are we getting a vaccine? | JF |
| Stay strong everyone! Good luck in this scary world we live in | Cat |

Oneliners

-----+ automessage +------------------------------
Ok.... so the LORD IGMs have been added. Six, to be exact. We can add three
more, or with an expander program I suppose infinitely more... give us your
thoughts...
----------------------------+ Haakon +------------
More importantly, what do you guys think about resetting the doors? I know
I'd probably jump in on some fresh games. Now that we have a fairly consistent
group of callers, it could lead to some fun games... GO VOTE IN THE VTNG BOOTH
----------------------------+ Haakon +------------
Congrats to Enasyorl on your first LORD win! Definitely earned it with this
one too!

----------------------------+ Kubrius +-----------
Automessage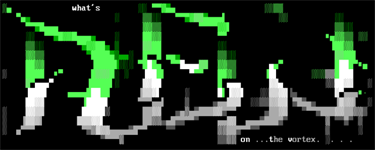 ---
[09/10/20] - Another few months, and a few more changes... biggest thing is we have added six new LORD IGMs. Will be circling back to some bigger projects on the road map... more on that soon... so go check out those IGMs and let us know if there are any others you'd like to see.
[07/23/20] - It's been a chaotic few covid months lately, but we're still here and working behind the scenes on some infrastructure improvements. We've made a major server upgrade, pulled some services off the BBS machine and onto their own server with extra horsepower, and we should be in the best shape yet. Please let us know if you run across any issues!
[04/14/20] - As if it weren't fun enough staying isolated at home, yesterday I got to do it with no power! As a result, the board was offline almost all day. Sorry about that. All is well now. Minor update: the who's online had a bug where it would remove your node status after you replied to a message - that's been fixed. Who's Online should be at 100% now.
[03/26/20] - We've hopefully finished a brand new "Who's Online" system now that better captures your online status, what you did, and what points you earned that call. This opens the door to a cool new project or two that will be unveiled soon! And "hopefully" there are no more bugs. Also, the first of three winners has won the race to 1,000 points for free swag!
[03/07/20] - After a short, well-deserved break, we're back at it and already have some new projects in the works -- more on that later. All the doors should be working now, including Usurper, which we've tweaked to what should be a challenging but really fun configuration. Let us know if you have any comments or special requests!
[02/21/20] - We've been putting some finishing touches on various parts of the board...a tweak here or there to some of the new customizations, a SWEET new storyboard sequence for the new user login process (Existing users: check it out! Hit "apply" from the logon matrix, just don't create a new account when it's over). Doors have been reset too. Let's roll!
[01/03/20] - Well, it's been a very long couple of weeks around here, with many late nights, numb fingers, tired eyes, and strong coffees. However, the result is well worth it. You will notice a TON of changes and many brand-new, unique mods -- most notably the point system, score-based user list, trending leaderboards, endorsements... check it out! More coming!!
[12/17/19] - Hello friends! We are currently conducting some testing on our management tools and as a result, I get to tweet to you! We've been working hard lately to add more customization to the bbs. We will have more announcements shortly. Stay tuned!
[10/5/19] - Hello, world! After much time and energy and deliberating, we have decided to return to the Windows platform to run the BBS. Primarily due to the linux version letting every telnet bot out there clog up all the nodes and difficulty with the doors... but we're back on our way. Some logs and stats may have been lost, but that's how it goes. Here we go!